Flávio Brasil apresenta sua versão para a tradicional música Bladi-Oblada dos Beatles
Pequenas mudanças podem fazer grande diferença no seu poder de persuasão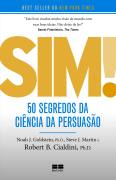 Semana passada, em São Paulo, comprei o livro SIM! 50 Segredos da ciência da persuasão. Eu sou fã do Robert Cialdini. Ele é um psicólogo social e traduz as pesquisas para aspectos práticos do cotidiano.
Seu livro anterior, The Psychology of Persuasion, devorei em poucos dias. Já há tradução nacional, aliás.
Então a grande jogada é compreender o conceito e aplicá-lo ao nosso ambiente.
Vejam o que o autor escreve sobre publicidades que condenam gente que joga lixo nas ruas: